ShareTransport PSB2 | Pasir Ris Grove to Kent Ridge/Buona Vista
April 03rd, 2018 | ST ROUTE
ShareTransport PSB2 is a bus pooling service, which aims to shuttle commuters directly from Pasir Ris Grove to Kent Ridge, One-North and Buona Vista.
Bus service operates on weekday mornings (except public holidays).
From the East to the West based on suggestions, PSB2 is expected to complete trip under 55 minutes - 1 hr.
Check out the full schedule in the table below
Time
Pick Up
Time
Drop Off

0719 hrs

D'nest/ The Palette condo,
Pasir Ris Grove

0820 hrs

PSB Science Park

0720 hrs

Livia Condo, Pasir Ris Grove

0825 hrs

One – North Stn

0721 hrs

Blk 571

0827 hrs

Galaxis

0722 hrs

Pasir Ris Ctrl

0830 hrs

Proteos

0723 hrs

Pasir Ris Town Pk

0833 hrs

Metropolis Drop-Off

0724 hrs

Blk 425

0725 hrs

Blk 429

0726 hrs

Blk 405

0728 hrs

Opp Blk 479

0729 hrs

Sea Esta Condo

0730 hrs

Ripple Bay Condo

0732 hrs

Blk 231A CP

0734 hrs

Blk 242

0736 hrs

Opp Blk 204

0738 hrs

Blk 269A
View full route in web app here.
Here's a glance of the estates PSB2 will serve :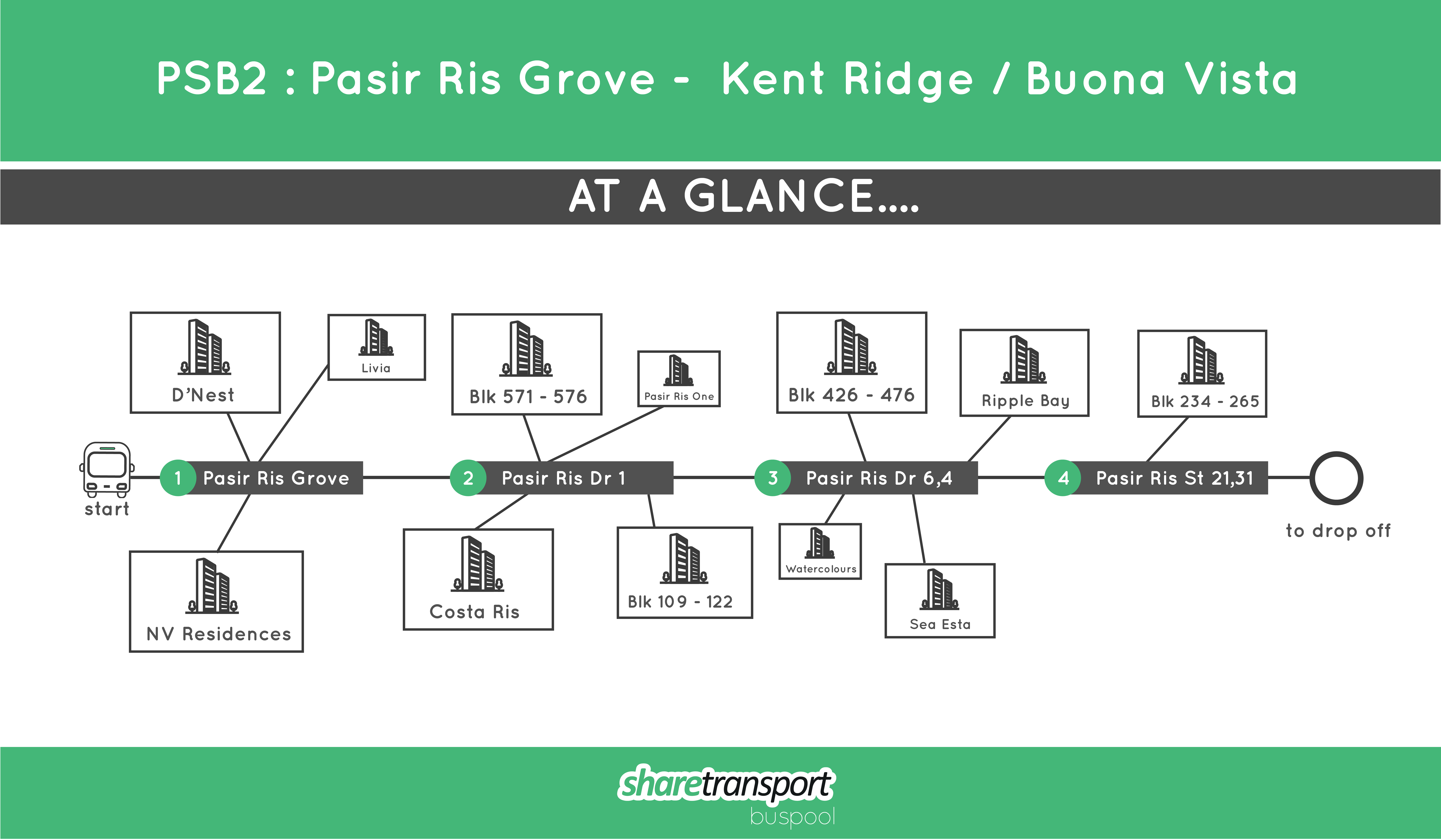 This bus service offers a direct journey catering to working executives at PSB Science Park, One-North, Biopolis, Fusionopolis and close proximity offices located along North Buona Vista Dr.
Have suggestions for PSB2? Click here to access the feedback and survey so and we'll do our best to improve.
Here's the feedback form. http://bit.ly/2I7aisE
Users who are interested may download the ShareTransport Mobile App and book a seat. A Monthly pass user can expect a get a direct journey with guaranteed seats at a discounted rate.
Monthly pass for following month opens on the 26th of each month. A daily pass for next month will open closer to the end of the current month.
You may view the full schedule on ShareTransport.sg or download the ShareTransport App here.
For more updates and latest route launch, follow us on Facebook or write to us at info@sharetransport.sg.