ShareTransport City Bus Re-Timed with new booking process
March 07th, 2018 | ST CITY BUS
ST City Bus Re-Timed.
We have adjusted the bus service across all 4 routes!
We'll also be extending our early bird price to users who plan early!
We've heard you and received many requests to re-time the pickup point; we will be adjusting all pickup timing during train closure dates. Pickup will now start at 2300 hours in an event where the route is available. Please see the revised pickup timing.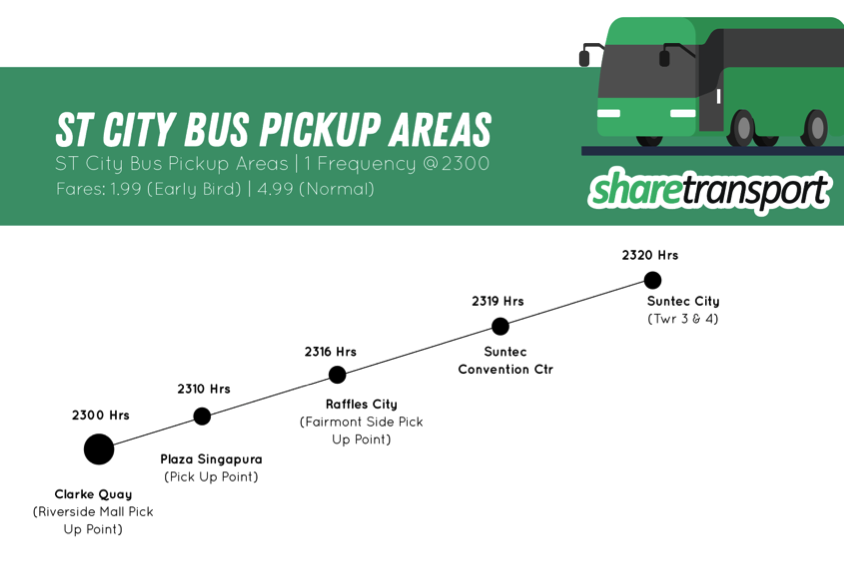 For Existing Customers
Share Transport will get in touch with existing commuters to process a refund should the revised timing affect your traveling plan. You will be advised to book with the new process at no cost.
We sincerely apologize for the inconvenience caused.
Change of Process
To better streamline the process, we have made changes to our booking process.
To book a Share Transport City Bus service, simply log-on to your Share Transport app, thereafter, select a route of your choice and add yourself to the waitlist before every Thursday of the week!
Users will be contacted and confirmed by SMS and App notification should they be offered an early bird price for a ride should there be sufficient demand to run the bus route.
Here are the instructions to join the waitlist:
Step 1. Launch your Share Transport App.
Step 2. Select Events under the bottom menu
Step 3. Select a route with pick up and drop off points selected > Add me to waitlist!
Step 4. Share Transport will notify you when your early bird slot is ready for booking!
Extension of Early bird price
Share Transport will be rewarding users who indicated their interest early before Thursday 2359 on the waitlist!
Do check out the routes here and indicate your interest for FREE Now!
Download the Share Transport App here
For any enquiries visit us on Facebook or drop us an email at info@sharetransport.sg